"To cure jealousy is to see it for what it is, a dissatisfaction with self." -author unknown
Jealousy and envy are complex emotions that fall on a wide spectrum and they can potentially cause a great deal of damage. However, jealousy and envy are normal human emotions.
If you have always viewed them in the context of being negative emotions, take a minute to let this sink in. Jealousy and envy are normal and natural God given human emotions. I am not a psychologist or biblical scholar, but that tells me that these emotions can be extremely valuable to bring clarity into your personal values.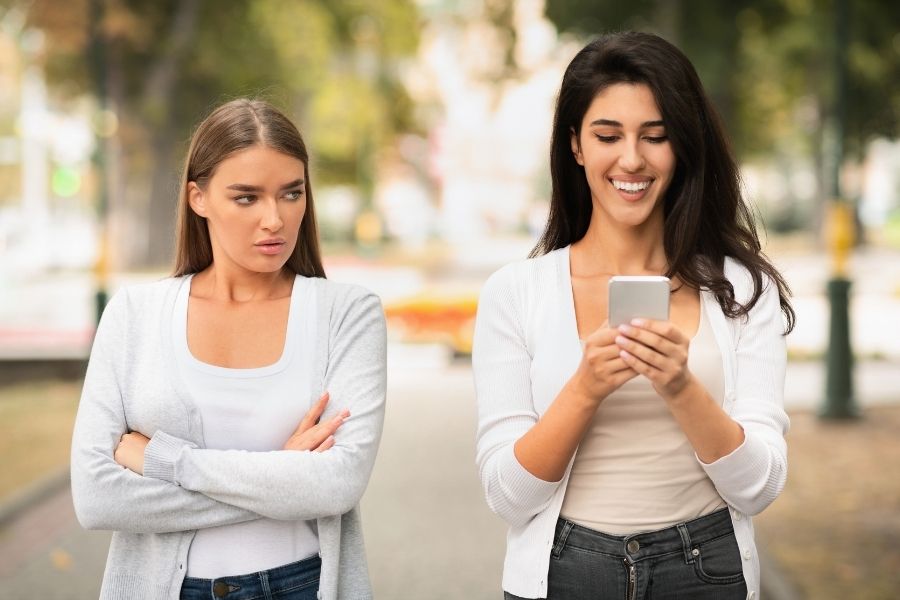 "The greatest discovery of all time is that a person can change his future by merely changing his attitude."- Oprah Winfrey
Two Helpful Ways To Use Jealousy
Before digging into jealousy any deeper I must first share that if this subject causes you to struggle to the point that it is having a negative influence on your life, please discuss your symptoms with your doctor. Additionally, there are many great strategies and resources available online that go much deeper than this article. This article takes on just one facet of a very complex topic.
Spending Too Much Time Focusing On Others
My friend…let me have the come to Jesus talk with you just in case no one else is. You have a very unique set of talents and gifts that only you can give. Feeling jealousy or envy is normal. Having it overtake your thoughts or behaving in a way that you are not proud of is a major red flag to STOP and heed the warning signs. You are spending too much time focusing on what others have on not on your own talents and gifts.
You are not alone
Over the last 6 years I have been building my other business The Fed Up Foodie. Building a business is a grunt worthy and completely non-glamorous experience. When you first start you are pretty much dirt poor because it takes time to make a profit. Also, with working from home I am always in yoga pants and t-shirts. It has taken a determined and insanely stubborn mindset to get up everyday and work. Because of this it can be super easy to get distracted by the shinies (aka social media and how other people are living). I can not tell you how many times envy has poked its ugly head up in me because I am watching a friend travel for the umpteenth time. I can not even begin to tell you how many times I have had to have a come to Jesus talk with myself. However, what has always helped is taking time to thoughtfully and patiently ask myself questions like you will find below.
If you find yourself heading in that direction first know that you are not alone. We all have had cringe worthy moments in our lives where jealousy has taken hold. What is important is that you stop and take some time to do self reflection.
A Desire You Didn't Know You Had
This is where jealousy can be a huge blessing in disguise. Have you ever had a moment where you felt envious of someone and yet it completely caught you by surprise? Believe it or not, having this emotion can open up a world of possibility in your life. Uncovering a hidden desire is like unwrapping the best Christmas present ever. It can literally start you down a deeply meaningful road in life.
It is extremely important that you are patient with yourself as you answer the questions below. Remember, jealousy and envy are normal human emotions. Gaining clarity and wisdom from them is one of the healthiest ways to approach them.
Self Reflection Questions About Jealousy
Take a moment to narrow down what specifically stirred the feeling of jealousy or envy. Is it one thing or several things?
What do these emotions say about your desires and values?
Do these desires bring a brand new awareness to you?
If these are brand new desires, take sometime to reflect on exactly what it is you would like to achieve? What tools and resources can you utilize to help in achieving this desire? What small step can you take today to head you on the road towards success? How will you map out and track your progress?
Have you known about these desires for awhile and are you currently working towards achieving them? If yes, what specifically do you feel caused the feeling of jealousy or envy? Have you gotten off track with your goal and how can you get back on track? If you are on track with achieving your goal, how can you give yourself more grace? (Often when we are diligently pursuing a goal it can be easy to compare our middle to someone else's ending.)
Because guilt is a common emotion connected with jealousy and envy, what is something small you can do to feed your soul and ease the guilt?
Taking the time to self reflect without judging ourselves can be hugely clarifying and insightful. It gives us time to take inventory into what is really important to us and to make sure we our on a path that we truly want to be on.
More Resources
Also, have you ever struggled to find journal with thought provoking questions that helps you better understand yourself? Look no further, a Journal for Self Discovery starts you on the path to a deep and meaningful relationship with yourself. With 100 thoughtful questions that will immediately start to bring you clarity into what is most important to you.